Foreign Exchange market includes of high risk, so you should trade with consciousness and with right trading tools. It is so risky that around 96% of traders lose their money here and end up quitting. But, if you have a well trading strategy, you can achieve a lot from this market, the forex market is so big that around $5.1 trillion is traded every single day. In the forex market, forex brokers play a significant role. Forex brokers provide their clients (forex traders) the access to a trading platform which allows traders to buy and sell foreign currencies.
A selection of forex trading platforms is a critical factor because it can make or break your goals. It is very difficult to decide which trading platform would be best for you. Especially, new traders confuse themselves when taking decisions regarding forex trading platform. The platform would be selected with deep research and you need to choose the one which is popular forex traders and which has good reviews.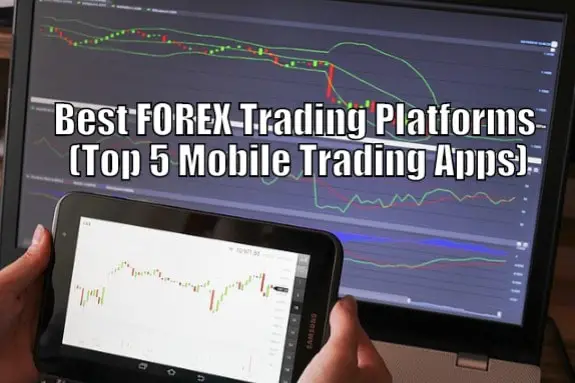 WHY CHOOSING THE BEST TRADING PLATFORM IS IMPORTANT?
Many forex traders think why it is so important to choose the perfect trading platform? They have this kind of mentality because they have perception; all they need to do is trading. But, they are unaware of losses and hurdles they will face when they trade through the unregulated or improper trading platform.
There are many other aspects which make very important to have a proper selection of the perfect trading platform. Factors such as Security of personal data, User-friendly interface, Analysis tools, and many other important factors, traders should not neglect.
In any forex trading platform, a trader must check out the effectiveness of customer support because if you have selected the platform which takes a long time in answering your emails or calls, you cannot maintain the trading efficiency and ultimately you would not be able to achieve your trading goals.
Choosing the best trading platform will improve your trading efficiency and will enable you to achieve your forex trading goals easily. So, it is very necessary to trade through the platform and broker which is regulated and popular among other forex traders. You can check the efficiency of any platform through sources like articles, online reviews, through other traders, etc. So, to help you out in the selection of the best trading platform, here we have discussed some important factors you should look for in a trading platform.
WHAT YOU SHOULD LOOK FOR IN A TRADING PLATFORM?
We have seen, what is the trading platform? Now we will discuss what you should look for in a trading platform? You should not randomly select any forex trading platform, there are various factors affecting decisions for the trading platform:
1. Reliability
Depending upon the software and hardware characteristics, some forex traders might prefer a desktop application while some prefer web-based application. As a trader, you should understand which type of platform is best for you. It is also very crucial to make sure that the platform works smoothly, does not freeze or crash often. So, the reliability of the platform is a very crucial factor a trader must consider in a trading platform.
2. User-friendly Interface
Selecting a trading platform which has a user-friendly interface is very important because it eases in placing an order or closing a trade. User-friendly interface makes easy for a trader to make trades; it also includes one-click trading. This factor is also necessary for stop-loss and other order types.
3. Responsiveness
Trading with the responsive platform is actually the benefit forex traders' looks for. Investors who trade in the currency market, especially in forex markets, neglect one of the crucial thing in trading, i.e., slippage. If your trade cause gap, you might face losses in your trading or miss the big opportunity. Hence, the effective forex trading platform is the one which is responsive in nature.
4. Automated Trading
Automatic trading is the best feature a trader should look for in a trading platform. Here, in automated trading, many trading platform offer algorithm which can give you trading suggestions as well as allows to enter your own algorithm which automatically places orders if certain preloaded conditions are fulfilled.
But, one thing you should remember is, always double check the trading suggestion provided by your trading platform, no matter of its popularity and effectiveness. You should not totally rely on suggestions, you also need to do research and analyze the market conditions for the purpose of trading.
5. Analysis Tools
Another important factor you should consider before deciding about the trading platform is analysis tools and their effectiveness. The trading platform you want to select would be able to analyze your trades after they've run their course. If you want to ease your profit-making ability through trading, analysis tools are very important. Also, check out the tools provided by the trading platform before selecting it; make sure it has some effective analysis tools.
6. Security of your data
Security is very crucial. Before selecting any forex trading platform, make sure your personal data would not be compromised. Hence, the platform selected by you must be secure as well. To know whether your data would be secured or not, you need to check out the type of data encryption the selected trading platform uses, it would give you an idea of how well your data would be protected. Some popular trading platforms use firewalls both on server and application level.
BEST FOREX TRADING PLATFORMS
So, to help you out in the selection of best foreign exchange trading platform, here we have elaborated some of the best trading platforms for you:
1. TradingView
Tradingview is the advanced financial platform with an easy to use setup. Tradingview has all the tools and data you need, whether it is basic price charts or plotting complex spread symbols with overlayed strategy back testing. It is the best active social network for investors and traders.
With the help of Tradingview platform, you can talk to millions of traders worldwide; you can discuss trading ideas and place live orders. In TradingView, when it comes to trading, the ultimate goal is to buy or sell securities and make profits and it provides you with all the trading tools to practice and become an effective trader.
Trading with Tradingview:
As we know the forex market is very risky, so before you risk your real money you need to learn about this market properly. To make you a successful trader, this platform also has an option for starting a simulated account or demo trading account. The simulated trading account could help you in practicing your trades and you are not risking your real money there, so it is the best way to learn if you are a brand new trader. Once you have done with demo accounts, you can start placing real orders by opening a trading account with the supported broker and connecting it with Tradingview. In trading, this platform helps you in three ways:
Paper Trading
Multiple Brokers Supported
Depth of Market
When you visit the website of Tradingview, you can see it is very appealing, user-friendly and simple. It can provide you market info and insights from any browser or device. It is an advanced trading platform with the ease of use of a modern website. Here are other benefits you are going to get if you start with this trading platform:
Advanced charting features
Integrated news & Market analysis
Accessible from all browsers on Windows & Mac
Customized technical analysis
Also if you would like access to our free indicators sign up for your free tradingview account by clicking HERE
Customized Technical Analysis:
The great thing about this platform is, it comes with over a hundred pre-built studies for detailed market analysis, by covering the most popular trading concepts and indicators. Technical analysis is effective in the estimation of future price movements in the forex market. This estimation of future prices is done after analyzing the data of past market and on the basis of the data collected, forex market forecast is done. The trading indicators and trading concepts come with this platform are very effective and it can help you a lot in the trade.
But, trading concepts and indicators are not enough; they have also built the Pine Programming language. Pine scripts allow traders to create and share their own custom studies & signals, and the main advantage of pine script is that any study's code can be easily modified. You can also create any custom indicator from scratch, using this platform. Here is the list of benefits you would get in the form of technical analysis in this platform:
Back testing for trading strategies
More than a hundred pre-built technical analysis
Volume profile indicators
Community-powered technical analysis
Pine script
Indicators templates
In this platform, you can also get premium data on prices, volume and history streamed directly from the US and international exchanges. It has broad market data coverage, in this sense; it gives you the following advantages:
Custom time intervals
More than 50 exchanges and data feeds
Fundamental and global economic data
Economic and earnings calendar
Extended trading hours & Time zone options
Intuitive earnings, splits, and dividends
So, here we have seen one of the best forex trading platforms, it is very popular and used by many expert traders.
2. MetaTrader 4
It is a trading platform developed by MetaQuotes Software for the purpose of trading online in the currency, contract for differences (CFDs) and futures markets. The platform can be downloaded at no charges directly from the MetaQuotes website and through many forex brokers online. This platform provides you tools and resources that allow you to analyze price, place and manage trades, you can also employ automated trading techniques with the help of this platform.
To start using this platform, first, you need to install it. As told earlier, you can download it from MetaQuotes website directly or you can also download it through many forex brokers online. The installation would take not more than a few minutes with a high-speed internet connection. The installation process would be very basic, same as we install any other software or application in our computers.
Basic Navigation:
The MetaTrader 4 indicator opens with four charts windows, each of them representing a different currency pair. The toolbars, with many icons, are located at the top of the screen and below the toolbars, on the left side of the screen; we can find a market watch window. While two tabs are located at the bottom of the market watch window, one is symbols and another one is tick charts.
The terminal appears at the bottom of the screen with six tabs: Account History, Trade, Alerts, Mailbox, Journal, and Experts. The account history tab includes all of the activities that have occurred, including closed orders. So, this was the basic navigation of MetaTrader 4.
Advanced Features:
As we see, people are getting more attached to electronic devices and digital stuff; many forex brokers offer their clients application to support MT4 on their digital devices. The task of the MetaTrader 4 application is almost the same as of the desktop version.
In MT4 application, forex traders can access charts, place & manage trades and can utilize technical analysis tools. Currently, MetaQuotes supports only Windows Operating System, while third-party brokers have developed Android and iPhone applications available. Most brokers do offer mobile applications, but they don't always provide applications for all the operating systems. And, there are some brokers who charge fees for providing a mobile app or for license key while many brokers give it for free.
Expert Advisors:
The Expert Advisors program of MetaTrader 4 can be used to allocate your trading strategies and automate trading. With the help of 'MetaEditor' feature in this platform, forex traders can write their own custom indicators and strategies. You can also find other helpful information in 'MetaEditor' feature by clicking on 'Help' and selecting any of the subheadings in 'MQL4 Community', which includes MQL4 Website, Book, Articles, Documentation, Code Base and Forum.
The MQL4 online community offers you the free support & members can post their questions regarding trading and get answers to their questions from other community members. So, this is one of the useful features of MetaTrader 4.
If you insist on using this platform, then you need to select the regulated forex broker that offers you this platform. To help you out in choosing the best broker, we have listed some of the best MT4 brokers below:
FXTM
OctaFX
FX Primus
Alpari
CMC Markets
Hence, we can say that MT4 is one of the effective and advanced foreign exchange trading platforms.
3. cTrader
The cTrader is a comprehensive and robust trading platform, which is designed especially for CFD and Foreign Exchange trading. In the cTrader platform, you will get the maximum forex trading transparency and visual support with more than 26 prebuilt cTrader chart views, up to 50 savable chart templates and customizable interface for all the technical trading analysis strategies.
It is compatible across multiple devices, it boasts a sophisticated back end, quick order execution, level II pricing, and advanced Forex order types. This platform eliminates the need for doing desk interventions, and it allows you to trade in the real market. In this platform, the orders can be simply dragged and dropped directly from customizable charts; the algorithm can be programmed and thereby customized to your trading styles and strategies.
It doesn't matter whether you prefer algorithmic forex trading or manual forex trading; this trading platform would ease your strategy with different applications. It would provide you the mean to automate CFD on metals, receive real-time trading signals and notifications, full market details and guide to your trading strategies.
cTrader trading platform would provide you many features that will be helpful to you in trading decisions. Here are those important features:
i. Rapid Entry and Execution:
This trading platform ensures the rapid filling of multiple orders at once, without any queue in orders and without compromising the quality of execution. So, this feature makes this trading platform more helpful to traders than other trading platforms.
ii. Transparency in Prices:
In this trading platform, brokers need to connect with at least one liquidity provider. From the liquidity providers, trade executions are then verified against the prices streamed. So, this ensures a better and more transparent execution of trades.
iii. Level II Quotes:
With the executed pricing determined by the liquidity providers, order books are filled through a volume-weighted average price (VWAP). Hence, it makes liquidity of all the currency pairs full transparent to the traders.
iv. Instant Reaction, No Delays:
No trader would ever desire to have delays in the trade execution; delay in the trade execution is one of the irritating things for every forex trader. This trading platform approaches this problem with Quick Trade Feature and allows forex traders to open, modify and close trades instantly during the volatile market condition. Hence, this feature is very crucial for any trader.
So, the above mentioned are some of the great features of this trading platform. Another great feature of this platform is, it is available for both desktop and mobile devices, available as a web application that is compatible with Windows, Linux, and macOS, and it can also be accessed from the smart phone or tablet, whether it is Android or iOS.
4. CMC Markets
CMC Markets is another best forex trading platform. It's become grown to become one of the leading retail forex and CFD Brokerage Company and it offers around 10,000 CFD instruments across major asset classes including foreign exchange and securities market. This platform serves more than 60,000 clients globally with its 15 offices worldwide & across its entities regulated in Australia, Canada, and the UK.
This trading platform offers its clients a wide range of offerings with the best pricing. The Next Generation trading platform in the CMC Markets is one of the best features which are packed with innovative trading tools and charting.
With the increase in forex brokers' scams and frauds, traders cannot trust any broker blindly, so trust is one of the important factors when it comes to selecting any forex trading platform or forex broker. To solve the problem of the trust factor, CMC Markets has proprietary 1 to 100 score, the higher the score the better the broker is, to help investors in finding a trustworthy broker. This feature of scoring a broker is named as Trust Score.
CMC Markets offer traders low spread offering, which is available to all the customer segments and account types. This trading platform offers the liquidity rebate to its active traders who surpasses the minimum of £50 million in notional trading volumes per month and with the rebate level ranging from £5 to as much as £10 per million for those that trade even higher volumes.
Tools & Benefits:
The CMC markets offer traders many benefits and features to ease forex trading. In this service, the Next Generation trading platform is the most reliable, fast and comes packed with some of the unique tools and numbers of features to enhance the trading skill of traders.
The Next Generation trading platform is built using HTML5, which makes it flexible, fast and reliable. While, if we talk about charting, the experience a trader would get is quite powerful because there are a number of tools and plenty of technical indicators (around 81) and the studies can be added to each chart.
Another effective tool of this platform is the pattern-recognition tool, which offers a trader a number of options for trading and analyzing the price action. Patterns will be auto adjusted when the chart time scale is changed, that enables traders to scan from one-minute chart all the way to the monthly chart.
So, CMC markets is another best forex trading platform, its different features like Next Generation trading platform makes it more effective and valuable.
5. FOREX.com
The Forex.com trading platform has plenty of options for forex and CFD traders across its regulated offerings globally. It offers robust trading platforms for a new trader as well as a professional trader.
It is regulated in the UK, US, Australia, Japan, Canada, Singapore, and the Cayman Islands. As we all know, the law of trading varies in each country, the products offered in each of the countries also vary. As for example, CFDs are available outside the US while they are not available to US clients. Hence, products vary from one country to another.
In forex.com platform, clients can go negative, because as negative balance protection is not offered by it. Accounts are monitored automatically and if a client fails to have sufficient balance his account, positions will automatically be liquidated. This platform does offer guaranteed stop-loss, but at a cost.
Benefits:
One of the crucial things we have to consider when selecting a trading platform is, to select the platform which is licensed. Forex.com trading platform is licensed in highly regulated jurisdictions.
When it comes to trading, most forex traders prefer to have a good trading experience from their mobile devices. This platform provides advanced charting capabilities in both desktop and web platforms.
It is very difficult to find a broker which can give its clients legit trading information and ideas. This platform features numerous channels of research content and trading ideas.
Forex.com is a market maker, this can benefit traders as its ability to execute trades will not rely on any third party like agency broker, hence, trading with this platform can result in better execution in struggling market conditions.
It offers multiple trading platforms including Advanced Trading (which was earlier branded as FOREXtrader Pro), MetaTrader 4 (MT4), and Web trading.
The Advanced Trading desktop version is best suited for advanced retail traders.
Forex.com is very effective in centralizing its research within the advanced trading platform and keeps it well-organized for clients to gain access from any place.
The most research in this platform is available alongside different news channels and which integrates next to automated pattern recognition modules from the AutoChartist.
Hence, Forex.com is another effective trading platform for forex traders. And, here we can see there are many benefits of adapting forex.com as a trading platform.
CONCLUSION
A selection of the best forex trading platform is very important; it can make or break your trading goals. But, with the increase in the number of trading platforms and forex brokers, it becomes very difficult for traders to select the ideal one, especially for brand new traders. New traders take selection decision without knowing the hurdles or losses they might face in any platform.
So, ease your selection of trading platform, here we have elaborated some factors you should consider before choosing any forex trading platform, the importance of selecting the perfect trading platform and some of the best and popular forex trading platforms. These five forex trading platforms are regulated and used by expert traders too.