Foreign Exchange is the process of changing currency from one currency into another, due to various reasons, trading, tourism or commercial. These are the three main reasons for currency exchange. Forex market traded of around $5.1 trillion in a single day. Foreign exchange market is the largest financial market in the world; the forex market is larger even than the stock market.
So, here, in this article, we will discuss making a living from this market. Let's answer the frequently asked question by aspiring forex traders, "Whether it is possible to make a living from forex trading?" And, the answer is YES, you can make a living from trading forex. But, it is not that easy, you need to be consistently doing a lot of things in the right way to become an effective and successful forex trader.
Most traders who are willing to make their living from trading, they do not yet possess the ideal skills for trading like, patience, discipline and realistic attitude to succeed in this market. Let us first understand, what is professional forex trading?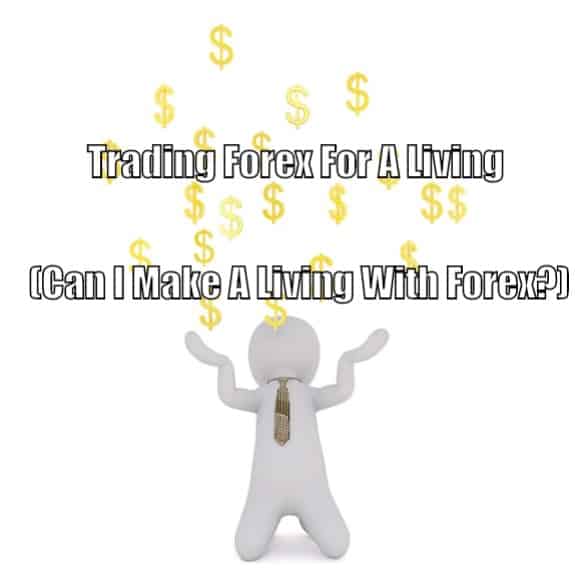 WHAT IS PROFESSIONAL FOREX TRADING? (TRADING FOREX FOR A LIVING)
A professional forex trader is the one who uses price movement in the Forex (Foreign Exchange or Fx) currency market to make a profit. To generate more and more profit, the main motive of any forex trader is to win as many trades as possible and to increase those winning trades.
There are many investors who carry a myth that forex trading is a quick rich formula, they are unaware of duties a forex trader has to look after, they also think trading is very easy and forex traders do is just trade few hours and make bunches of profit. But, this is totally a myth; there are numerous tasks a professional or normal trader has to focus on to achieve his trading goals.
WHY DO PEOPLE TRADE FOREX FOR A LIVING?
There is an obvious answer to this question…Money. Every person has different motivations for why he/she want to trade forex for a living. But, most of them have something to do with money, it could be you want to make a little bit more pocket change or it may be you want to live the luxurious life, in the end, their main motive for trading forex for a living is to make tons of cash.
So, if your main motive to start forex trading for a living is only to make money, you'll end up facing a loss. You should obsessively love to trade forex and you should be considering it as your self-identity. You should find out your motivation to start trading forex for a living, whether you want it only because of money or you actually love to do it, it is very important.
Another thing you should keep in mind that, you cannot get overnight success in this market, it will need a lot of efforts, hard work and importantly, motivation to keep hustling in this market. Hence, before making this for a living, make sure you love doing it and you are ready to put all your efforts in planning and implementing your forex trading strategy.
MISTAKES MADE BY TRADERS WHEN THEY START TRADING FOREX FOR A LIVING
Trading forex for a living is not so easy, they are many duties and important tasks come to you that you have to work on. Generally, when a trader starts trading for a living, where he/she makes some mistakes. So, to help you out in avoiding those mistakes, here we have elaborated them:
1. No Proper Trading Plan or Strategy
As a forex trader, you must have your trading plan and strategy; it is very difficult to execute your trades without having a proper plan. A trading plan works as a blueprint for your success. When some traders enter into trading for a living, they think now they are full-time traders and they don't need any plan, instead, they need to be very serious about having a proper plan.
2. Overtrading
Overtrading is a big issue when you are a full-time forex trader. Traders think that more they will trade, more they will earn but this is not true. Overtrading always brings huge losses, so instead of making more trades, you need to make a few effective trades. To have an effective trade, you need to plan, test your strategy and execute it carefully; this would bring success to your trade.
3. Emotional Trading
To become a successful forex trader, you should never trade forex when you are emotional, fear or greed. Emotional trading would always result in huge losses, it also brings overtrading. So, the important thing here is, how you control your emotions, how you are controlling your greediness and fear. You can also spend your time in other activities like, reading books, hanging out, etc which relaxes your mind and emotions.
4. Not having a Stop Loss
A Stop loss is a very simple but very powerful trading tool every forex trader should use. It is designed to limit your loss on a security position; it is very effective in use. Even if you are sure of your profit targets, don't forget to set a stop loss position. The main reason why you must use this is, the currency market is an unregulated and uncertain market, and you really don't know what could happen the next moment.
5. Adding to an unprofitable trade
Many times, traders are very sure about their trading targets that they are blind to reality. If you have an open position, you lose the capability to make unbiased judgments and your actions become so chaotic hence, must keep in mind that you should not add to an unprofitable trade.
DAY TO DAY LIFE OF PROFESSIONAL TRADERS
When it comes to the routine of professional forex traders, there are many tasks a trader has to cover than you think. Starting from the morning to going to bed, you have to keep your eye open and be updated about this market and its sentiments.
If you do not put all your attention into this market, there might be you have missed out some great opportunities, which is the ultimate loss to you. Hence, the main task of a professional trader is to have a constant look in this market. Here, we have classified the daily routine of a professional trader into three important parts:
Right morning routing
Know how you trade
Scan and Trade
As a professional forex trader, you have your set of rules and routines habits that makes you close to trading goals. The morning of any professional forex trader starts just like any other human being who wants to be effective throughout the day. A trader requires to make a sound decision and conduct analysis, which requires more oxygen to your brain to be fit, so it advisable to start the day with exercise and healthy breakfast.
The next important part is, know yourself how you trade. There are many types of trading styles and strategies like, position, swing, scalping, etc. according to the type of your trading strategy or style; you have to mold your routine.
You have to trade after going through the detailed analysis of the trade. You should know the expected success of that trade and go for it according to your trading style. Hence, the day to day life of a professional forex trader is well scheduled and it involves many crucial tasks.
MOST POPULAR PROFESSIONAL FOREX TRADERS
To motivate you to get started with trading forex for a living, here we have discussed some of the most popular professional forex traders. We have also discussed when and how they started their trading journey.
1. Stanley Druckenmiller
Stanley Druckenmiller was raised in the middle-class suburban Philadelphia family. He started his financial career in the year 1977 as a management trainee at a Pittsburgh bank. After four years, he quickly rose to success and formed his own company, Duquesne Capital Management. He then successfully managed money for George Soros for a few years in his role as the lead portfolio manager for the Quantum Fund between 1988 and 2000.
According to Stanley Druckenmiller, any aspiring or experienced forex trader should stay aggressive even when trading successfully. He believes that having won the right to trade aggressively, you should continue to prize. He says if you have faith in a trade, be aggressive but be warned against using too much leverage, even a great trade can lose a lot of money if it is over-leveraged.
Stanley's fame was intensified when he was featured in the best-selling book, The New Market Wizards, which was published in the year 1994. He built his repo on knowing to bet big when the right opportunity presented itself. He credits his approach to his mentor and friend George Soros. So, from Stanley Druckenmiller, we can learn the importance of trading big, but only when the right opportunity presented itself.
2. George Soros
George Soros was born in 1930 and started his financial career at Singer and Friedlander in London in 1954 after escaping Nazi-occupied Hungary. Before establishing Soros Fund Management in 1970, he worked at a series of financial firms.
One of the advices for forex trading of George Soros is the ability to cut losses early, he is also known as the person who broke the Bank of England which made him a Billionaire in the forex market. He raised his international fame in the year 1992 as the forex trader who broke the Bank of England.
Looking at his early life, later in 1956, George Soros worked in companies like Wertheim & Co., FM Mayer, and many others. In the year 1973, he founded his own hedge fund, Soros Fund Management, which eventually became Quantum Fund.
The investment strategy of Soros was always a combination of human rights, free markets, and scientific inquiry. His scientific investment strategy includes, testing the theory on smaller investments first and then on larger ones when the smaller one succeed. George Soros was also the mentor and friend of Stanley Druckenmiller.
3. Andrew Krieger
Andrew Krieger made his most fortune by focusing on the New Zealand Dollar, which he recognized as weak to short sell due to worldwide panic in financial assets. Andrew proceeded to apply astonishing leverage of 400:1 to his extraordinarily high forex trading limit. He joined Banker's Trust in 1986 after leaving the position at Solomon Brothers.
Andrew acquired an immediate reputation as a successful forex trader and the company rewarded him through an increment of his capital limit to $700 million, it was more than the standard $50 million limits, this bankroll put him in a perfect position to profit from the October 19, 1987's crash known as Black Monday.
In Andrew Krieger's strategies, fundamental analysis played a very crucial role. He had the perfect trading skills and market monitoring skills, which made him a successful forex trader. Another important thing you should consider to have a good trading strategy is, to have knowledge about when to exit markets. The thing made Andrew Krieger a successful trader is to keep having eyes on the latest developments.
4. Bill Lipschutz
Bill Lipschutz started trading forex while attending Cornell University in the late 1970s. At that time, he turned $12,000 into 250,000; though, he lost the entire stake with just one poor trading decision. That was the big lesson for Bill Lipschutz on risk management throughout his career. In 1982, he started working for Solomon Brothers while he pursued his MBA degree.
He was making more than $300 million a year for Solomon Brothers and he was the principal trader for the company's forex account, till he left on 1990. As we have seen, one of the biggest lessons Lipschutz got from forex trading is to have proper risk control. It is very important to have proper risk management and money management skills for any trader when he is trading into this market.
According to Bill Lipschutz, traders need to pay attention to the risk-to-reward ratio, he says it not advisable to invest and put all your trading capital in one single trade. Bill says instead of putting all your trading capital into one single trade, you should invest it in different trades. Another important thing is, to understand market sentiments and trade accordingly, market trends and sentiments should not be ignored you should place trades only when the fundamentals are favorable.
5. Bruce Kovner
Bruce Kovner was born in 1945 in Brooklyn, New York and he didn't make his first trade until 1977 when he was 32 years old. He borrowed against his credit card to buy a futures contract and made a $20,000 profit. In 1982, he founded Caxton Alternative Management, transforming to into the world's most successful hedge money with more than $14 billion.
When Bruce Kovner started trading with the Commodities Corporation, where he met one of the big influences, Michael Marcus. In the trading market, almost all traders have heard that mind plays a big role in the success that is what Michael Marcus was teaching Bruce.
According to Forbes, Bruce Kovner's net worth sits at $5.3 billion as of April 2016. We can estimate the power of forex trading by having a look at Bruce Kovner as an example. His journey from driving a cab in New York to become a Forbes featured forex trader was not so easy, he struggled a lot and he gave all of his efforts and focus to this market which made him popular forex trader.
So, here we have seen some of the top professional forex traders, from these legends of forex, we can learn a lot of things. Many of these traders initially made too many silly mistakes in trading, which helped them in learning new lessons. In a forex trading, loss due to a mistake is actually a lesson you learn from this market and you should avoid the same mistake. If you want to become an effective 'Stay at Home Trader', here we have elaborated some steps for that.
My Personal Selection Of Traders I Follow
Steve Gregor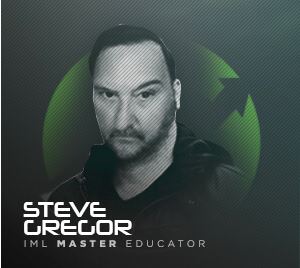 Founder: Scans, Forks, and Fibos Facebook group.
He is the original OG for New Paradigm trading. Kind of like the GE commercial I guess is one way to put it he didn't create things such as pitchforks, fibonacci, trading with tight stop losses, but he made them all better and put the grunt work into everything. He backs up everything he states with examples and years of data. He is way ahead of the curve when it comes to forex trading. There is nothing wrong with old paradigm trading with big stop losses but why not go for 5 pips a day vs 100 to make the SAME ROI!
Trading Tools: Pitchforks, Fibonacci, Trend Lines, TAB29, Elliot Wave, Wave Projections
Probably the most caring guru mentor I have ever come across
The main reason I have stuck with IML for over a year at the time of this writing
I have purchased his software TAB29 indicator for tradingview which he now gives away for free (lite version) with IML subscription lol.
His training is second to none
He focuses more on mindset as the way he trades you are setting traps and waiting for the trade to come to you not forcing or guessing on a trade
Strategy: New Paradigm aka tight stops with energy points, harmonic trading along with fibonacci based confirmation
Eric Garrison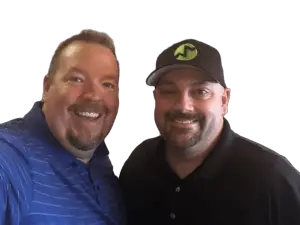 Eric Garrison is on the right in this pic. That is Arnold Thompson on the left who is a founder of our trading group.
Eric is an 8 figure trader that has developed a strategy he has been using successfully for the last 15 years. It is a very simple strategy that almost anyone can do.
He is now an IML educator and is giving his time to set people financially free
Is a very giving persona and loves giving back to the community
If you listen to him talk you can see how genuine he is right away.
More of a long-term trader.
He Takes his trades mostly off of daily and 4-hour confluence. The trend is your friend kind of strategy and trading.
Clint Eastman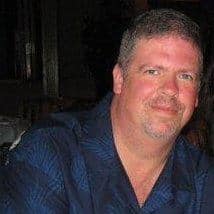 Clint Eastman is an 8 figure trader as well. He has been around the game for 35 years.
He uses what is called a CSA 5 Step Strategy once mastered it is amazing. I am still working on the mastery part but even using one of the tools he uses has helped narrow down entries
Most of his strategy is based on currency strength along with volume a great combination that has been around for a long time and is hard for the markets to manipulate
He is also making his way onto the IML educational platform still waiting for it to happen at the time of this writing but I have attended some of his live free zooms which have been amazing
Clint trades mostly the London Session and opening of New York session.
Does what is called basket trades which is amazing to watch in action
Makes a massive amount of pips in a short amount of time using tighter stop losses then your average trader
STYLES AND STRATEGIES USED BY PROFESSIONAL TRADERS
There are many different styles and strategies professional forex traders use to turn up their game. Generally, professional traders avoid overly complicated trading styles and strategies and rely on raw price data of the market to make their predictions and analysis. Here, we have elaborated some trading styles and strategies you should use, as a professional trader:
1. Discretionary Trading
Discretionary trading depends on the forex trader's discretionary trading skill, guts or trading feel to analyze and trade into this market. This trading style allows you a more flexible approach than the automated or robotic trading approach. But, this trading style takes a certain amount of time to develop the discretionary trading skill in the trader. To become an effective discretionary trader, you should keep in mind that the market is a dynamic and constantly flowing entity that is best traded by the human mind.
2. Automated or Robot Trading
Automated or robotic style of trading forex become very popular nowadays, this style is very effective in all the ways, whether it is time or energy. Automated trading or software-based trading systems are developed by creating a set of rules into code that a computer can make use of. In automated trading, all you need to do is set your trading criteria by analyzing the market and relax!
3. Fundamental Trading
Fundamental trading or news trading is the style of trading in which, forex traders heavily rely on market news to make their trading predictions and analysis. Often times, the forex market will react differently than a news release. But, professional traders use this trading style efficiently, they simply do not implement into a trade instead, they double-check the effectiveness of market news.
4. Technical Trading
Technical trading style includes analysis of a market's price chart for making one's trading decisions. It is the framework in which forex traders study the price movement. In technical analysis, forex traders use technical signals or price patterns to trade the market. In this trading style, we use charts because they are the easiest way to visualize the historical data.
FACTORS YOU SHOULD FOCUS ON WHILE TRADING FOREX FOR A LIVING
The effective forex traders acquire trading skills through practice, discipline, performing self-analysis, etc. and they keep learning how to keep greed and fear away from the equation. In the forex, Trading is not enough; you need to also focus on other important factors as well. So, here are some factors you should not neglect when you are trading forex for a living:
1. Define your trading goals
Before you start forex trading for a living, you must set your trading goal. As you would not have any other source of income coming, make sure you consider all the factors carefully and trading goals decided by you must be achievable and ideal.
2. Choose a Compatible Trading Style
Selecting a compatible forex trading style is another important aspect you should not neglect. The trading style would differ for the different trader; you need to find out the best trading style of yourself.
3. Maintain Consistency
Maintaining consistency is very important in foreign exchange trading. Maintaining consistency becomes easy by creating a process and setting trading rules, this can help you in becoming a successful trader.
4. Choose the Trading Methodology
Before you enter this market and start trading forex for a living, you need to have some plan or idea of how you will make decisions to execute your trades. Choosing an ideal trading methodology would help you in deciding and executing your trades effectively.
5. Choose your entry and exit time
Your entry and exit time would be chosen carefully, many traders confuse by conflicting information that occurs when looking at charts in different timeframes. Hence, it is very necessary to keep your timing in sync.
6. Learn to love small losses
When you are trading forex for a living, all you want from this market is as much profit as you can earn. But, foreign exchange is the unregulated market; you must be able to build a positive attitude when facing small losses. You have to build your psychology in such a manner that it can accept small losses. By doing this, you would be able to focus on your trades and avoid over thinking about losses.
7. Perform Weekend Analysis
You should not keep trading day and night; also focus on other crucial activities as well which can help you in achieving your trading goals. To study your trading conditions, perform a weekend analysis, it helps you in studying the effect of any news or signal had to your forex trading.
8. Avoid Overtrading
Overtrading is the enemy of your profits; make sure you stay away from it. The mentality of some traders is they will earn more money if they trade more, but this totally wrong. Instead, if you will focus on one trade, test it, analyze it and execute it, there are more chances of earning more money through it. So, being a trader for a living, you should mold your mentality in such a way that you avoid overtrading.
9. Avoid Emotional Trading
Trading with emotions like fear and greed would not make you a successful forex trader. To become a successful trader, you need to keep away all your emotions and trade with logic, by following your trade plan and rules. Emotional trading leads to overtrading and ultimately it lead to huge losses.
10. Keep a Printed Record
A printed record is very helpful in learning. You need to print out a chart and list all the reasons for making the trade, also include fundamentals that sway away your decisions. This chart would be effective in objectifying your trades that you will develop the mental control and discipline.
As a 'Stay At Home Trader', you not only have to trade effectively but also there are some other factors you need to have due consideration on. So, here we have seen some of the important factors you should focus on while trading forex for a living.
CONCLUSION
Trading Forex for a living needs a lot of hard work and discipline. You need to be consistently doing the right things in the right way to become a successful professional forex trader. You routine habits have a major impact on the efficiency of your trading; make sure you acquire right habits that are related to your trading goals.
You need to be consistently following your trading plan and strategy, stick to your trading style and know your markets. The problem of overtrading is very big; make sure you are not overdoing it because overtrading would ultimately result in big losses. Hence, here we have seen what is professional trading, why do people trade forex for living, mistakes done by professional traders, styles, and strategies used by professionals, routine life of professional forex traders and list of some of the top professional forex traders.