Over the past few decades, rapidly evolving technology has changed the way we business. Instead of following traditional/old school methods, nowadays people prefer automated, modern and form of artificial intelligence. It created a need for devices capable of implementing advanced rule-based strategies. The rise of technologies also applied to the forex market. One such tool developed which offers the trader a completely hands-off approach, which is known as Forex Robots. It is a computer program that recognizes and executes your trades automatically according to your predetermined criteria.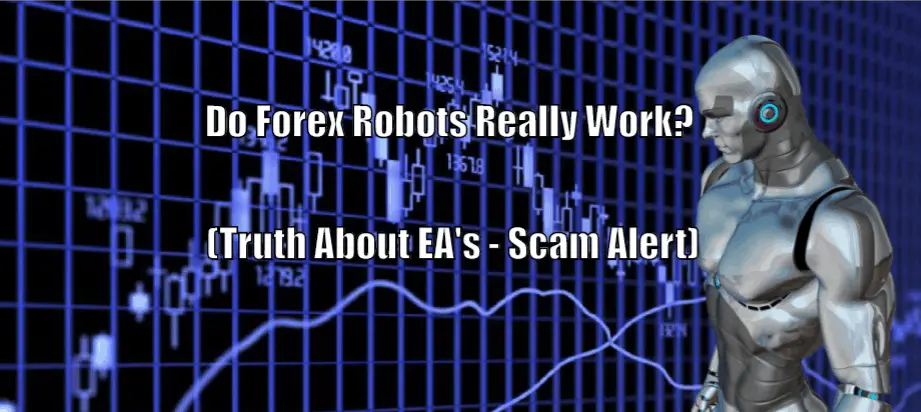 So, do FOREX Robots really work? Yes, FOREX robots can work for you; they do have the potential to generate more returns for the traders. The real issue is in finding the right robot. Currently, there are thousands of robots available for trading but, the important thing is to find the right robot. The robot you find must be based on the current market conditions and when the forex market conditions changes, you also need to change your robots strategy.
Nowadays, Forex traders want to try out an automated trading system and forex robots because they believe that automated trading would provide them more return than manual trading. Forex robots do have the potential to generate comparatively more profits. But, it is also significant to find the right robot. There are many successful forex robots out there but, a trader should be aware of the data mining bias.
Many traders believe to follow their own manual strategy, instead of the solutions provided by robots. Because there is no guarantee that every robot would provide you ideal results. Usually, new traders tend to make mistake, they think that automated trading would increase their earnings promptly but, instead of depending upon forex robots, they also need to build their manual trading strategies.
Forex robots do work but the question here is, Will it bring profit? Forex robots help in letting automated device work for your automated or forex robots strategy. Forex robots are available 24/7 for traders, it helps in defining whether to purchase or sell a particular currency pair at a given time. So, what are the different functions of forex trading robots?
The functionality of a Forex Robot
The functionality of the trading robots could be simple or extremely complex. Some basic functions of forex robots are mentioned below:
1. Trade Recognition
The forex trade robot is capable of identifying opportune trading conditions using defined criteria. The trade setup in the forex robot could be based on any technical guidelines. A good forex robot helps the trader in identifying opportune trade. It recognizes the trend which helps in profit maximization.
2. Order Placement
This is a very important feature of a forex robot. The key aspect of forex trading is entering and exiting the forex efficiently. The forex robots are capable of placing an order on the market. It helps in, directly buying and selling of a specific currency at an exact given time. An ideal forex robot helps in placing an order with exact mentioned criteria.
3. Position Management
Within the programming code and algorithm of the forex robot, parameters for position management are included. It consists of a parameter for stop loss and profit targets to meet the requirement of a trader. So, it helps a trader in setting for stop loss and profit targets. In the forex market, a trader sets positions for stop loss or profit targets through the help of automated trading.
These are the three main functionalities of the forex robots. With the help of forex robots, you do not stress about the manual trading, the forex robots trade automatically the command you give which means with the help of forex trading robots, you can also trade while sleeping.
Advantages of Forex Automated/Robot Trading
Forex robots benefit the trader in many ways:
1. Precision
Through the automated forex trading, there would be precise order entry and signal recognition, it also reduces the impact of human error upon the trade execution.
2. Extensive Capabilities
Forex robots are capable to scan a large number of products for an opportunity.
3. Latency Reduction
In the case of manual trading, sometimes, a trader might hesitate to place a position. But with the help of forex robots, the trading decision is made automatically so, trade-related latencies may be greatly reduced.
4. Limits Emotional Trading
Some of the most common pitfalls traders facing (especially new traders) are related to emotional trading. Two emotions affect to the trader when trading is, fear and greed. Fear and greed lead a trader to many poor habits i.e. over trading and haphazard risk management. Forex robots and automated trading system limit the ability of human intervention thus, it limits emotional trading.
Drawbacks of Forex Automated/Robot Trading
Some federal governments consider forex robots as scams. Many forex robots are advertised through false claiming by people who have made money after applying these systems. There are few drawbacks for a trader who trades through forex robots, they are as follows:
1. Bugs
A computer bug or glitch can be a hurdle in the effectiveness of automated trading or forex robots. Due to bugs and glitches, it becomes very difficult to carry on trading smoothly.
2. Inability to reason
As we all know, the forex market is not a stagnant market, it keeps changing. So, in the shifting times of this market, the forex robots are not able to adopt those changing conditions. Hence, it is one of the major drawbacks of the forex robot.
3. Limited Shelf-life
Forex market is an evolving market, it keeps changing. Most of the black-box systems are effective for a limited period of time. With the changing systems, it needs to be upgraded after a certain period of time. So, forex robots need to be updated from time to time.
4. Hacking
This is one of the great pitfalls in the forex automated trading system. Hacking activities or malicious software can adversely affect this automated trading system and forex robots. If any hacking activity occurs, order entry capabilities are negatively influenced. Hacking could badly affect the experience of a trader. So, forex robots are effective when they are secure to use.
Forex robots consist of some serious drawbacks; this is the reason why many traders consider manual trading strategy as more effective than the automated trading strategy. If you want to test out the effectiveness of the robots, you should check out reviews and testimonials online.
Conclusion
If a new trader wants to enter into the forex market and become successful, it is very necessary for him to be aware of different concepts and best tools in this market. Forex robot is the best tool which helps a trader in trading even if they are sleeping or they are busy. Automated trading does not require a trader to be available; it trades automatically according to the command given by the trader.
The best forex robot is that which suggest a solution to find profitable trades even in the unstable market, the robot which follows the best trend to maximize your profit and eliminate the chances of losses. It is very difficult to find the right robot, even from thousands of forex robots available on the internet.
So, forex robots and automated trading can work effectively if you have selected the right robot. There are thousands of websites available, but this is a very critical decision.
We use what is called an AI automated software EA that has had amazing results. You can see those results and testimonials by clicking HERE. No strings attached.