It is so shocking to know that, in the foreign exchange market, around 96% of traders lose their money and end up forex trading. For a new trader, it is necessary to have proper knowledge about this market because entering into this market with no trading strategy is like you have no purpose of trading.
A new trader can also learn basic concepts of this market by signing up for a demo account. Demo accounts are funded with fake money and they are used generally by brand new traders to get basic concepts clear about this market. The hurdle in this market is unregulated brokers, most of the brokers in this market are unregulated and they cheat their clients by using various tactics.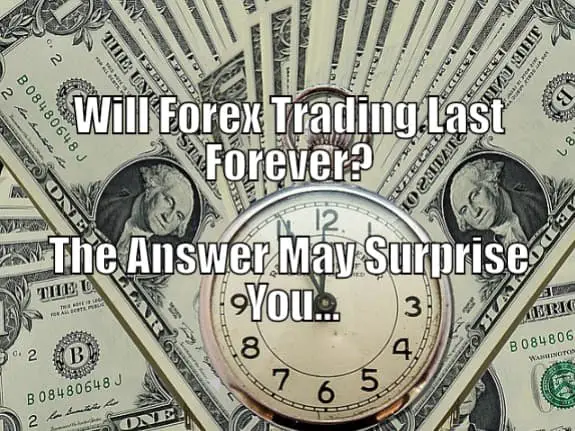 Due to such scams in this market, people believe forex trading will not last forever.
Will forex trading last forever? Yes. Forex trading will last forever, will never go to an end. It is a worldwide market place where traders trade various currencies and make a profit. It consists of transactions more than $5 trillion, which is increasing day-by-day.
Foreign exchange is done generally for three purposes:
Trading
Commercial
Tourism
All of these purposes play a significant role in international payments. But if we talk about forex trading, it is undertaken to trade various currency pairs and then make a profit. There are various trading platforms available through which a retail investor or trader can easily start trading.
There are many strong points and weak points about this market. After analyzing some roadblocks of the forex trading, some countries have banned forex trading, while many countries have imposed some strict regulations on this market, depending on the roadblock of this market. Some countries that have imposed regulations to the forex trading are:
India
Japan
China
South Korea
Turkey
Countries have some important significant rules, imposed after considering hurdles of forex trading carefully. Due to many factors of forex, there are more chances, forex trading will last forever.
Some factors why forex trading will last forever
Forex is a worldwide marketplace, where daily forex transactions are undertaken and here are some reasons why forex trading will last forever.
1. High Liquidity
Liquidy refers to the ability of an asset to get converted into the cash quickly without any price discounts. Forex market is consists of high liquidity. In forex trading, we can move large amounts of money into foreign currency at very less price movement, very easily.
2. Less investment
Forex trading requires a very minimal amount to get started with. For brand new traders, brokers avail the benefit of using a demo account, which helps in understanding the forex trading practically. Demo account is provided by a broker, the account is funded with fake money.
In the forex market, a new trader can start investing with as minimum as $100. A new trader can sign up for the micro or small forex trading account to get started investing in this market. The basic purpose of a micro trading account is to have risk management adoption skills. While in the futures market, it requires big amounts to get started. When a trader gets mastery in risk management, he can switch from micro trading account to the regular forex trading account.
3. 24 hours market
It is a round-the-clock market, the market which never stops. Forex market never stops; it is open 24 hours a day and 5 days a week. While some people ask whether the forex market is open on weekends? The answer is yes, the forex market is always open but on weekends it is closed for retail traders.
It is one of the great advantages of this market, it never stops. If a trader wants to take position or trade in the forex market at any place or at any time, he can do that. Hence, it is a 24 hours market and it never stops.
4. Low transaction costs
In the forex market, there is a minimal transaction cost. The cost of the transaction is built into the price in the forex market, which is called as spreads. It is a difference between the buying and a selling price. So, this is another reason why forex trading would last forever.
Some hurdles in this market due to which, forex trading might not last forever
There are many reasons why forex trading should last forever but, there are also some reasons due to which the forex trading might not last forever. Here are those factors:
1. Unregulated brokers
Unregulated brokers are the main cause behind forex trading issues and scams. The reason why around 96% of traders lose their money, the main reason is due to the unregulated broker. Nowadays, brokers use different cheats to earn more money from their clients.
Unregulated brokers provide rigged accounts to their clients so that they can fill their pockets. So, choosing a broker is a significant factor and this is one of the reasons why the forex trading might not last forever. Before selecting a forex broker, a trader should check out his reviews and services online, which is the best part of understanding the broker and his service.
2. Wrong forex signals
Forex signal is usually a short message which contains information that can help you in trading decisions. Forex signals work efficiently if they are gathered from the right source which provides signals after researching it thoroughly. There are many sources available nowadays to get forex signals; they should be implemented after analyzing them.
New traders generally follow free forex signals, most of them are not legit and they are transferred through social media channels. Hence, forex signals can make or break your trading structure, it is very crucial to select the right forex signal service provider, which provide signals after researching it thoroughly.
3. High Leverages
Leverage is a certain amount of money borrowed by the trader for the purpose of investment in forex trading. Forex brokers provide leverage services to their clients. It is the borrowed capital which can increase chances of higher potential returns. Leverage has both sides: Positive and Negative.
Generally, a forex broker provides you a high ratio of leverage which makes a trader happy, but there are many cons of high leverages. It brings liability, heavier losses, margin call risk, financing costs etc. Instead of trading big amounts through leverages, it is better to trade small through own account. So, high leverage is the hurdle in this market due to which, forex trading might not last forever.
Conclusion
When we talk about retail forex trading, forex brokers are the base for retail traders. There are thousands of forex brokers available in the market but, choosing the right broker is an utmost important thing. The most of forex brokers available nowadays are unregulated. This is the reason we assume forex trading will not last forever.
Will forex trading last forever? Yes. The reason is, this is the market consist of more than $5 trillion transactions just in a single day, also, it is a worldwide marketplace. While some countries have imposed some stringent regulations on forex trading, for the safety of new forex traders in the country.
Future is unpredictable; we might see some interesting updates of this market in the near future which can make forex trading more interesting.