The foreign exchange is a very big market; it is the world's largest financial market consists of around $5.1 trillion trading just in a single day. Big players in the forex market are banks, hedging funds, and other big financial companies. Generally, the forex market is open 24 hours in a day and 5 days a week, from Monday to Friday, it is closed on two days a week, Saturday and Sunday as weekend holidays. Due to holidays and off-market, the foreign exchange market changes and fluctuates due to low trading volume. Unlike weekend holidays, there are many other public holidays which affect the market and public holidays bring new changes in the market. Some public holidays are Christmas Day, Thanksgiving Day, and New Year's Eve.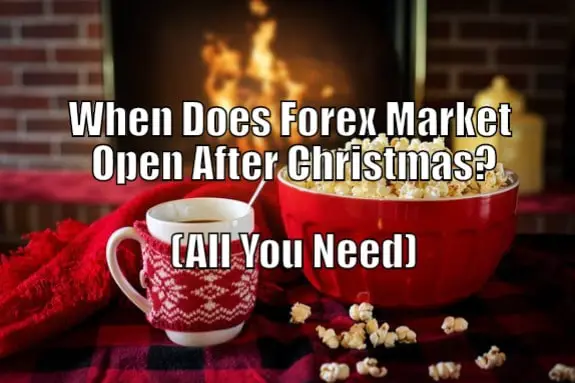 So, when the forex market opens after Christmas? Generally, the forex market is closed on the next day of Christmas, 26th December. On 26th December, BOXING DAY, there's a public holiday throughout Europe, Australasia, and Canada. After Christmas Day and Boxing Day, the forex market opens on the 27th of December. It is closed for retail traders while the forex market is open for central banks. While some forex markets are closed for the entire week, from 25th December – Christmas Day to 1st January – New Year's Eve.
After holidays, the market condition changes and you have to implement your trading strategy after considering the market situation. Mostly, all the brokers are not available on public holidays so, you cannot trade without your broker. Generally, the forex market is open all time because it is not conducted at a centralized location; it is traded through electronic communications.
One thing traders should know that there might be a public holiday in a specific region of the world but, the international foreign exchange market never stops. The international forex market can be divided into four regions: European, Pacific, Asian, and American. For each city, there is the different timeframe of performing various functions of the financial center.
During weekends, most people think that the foreign exchange market is closed but, the reality is it never closes; it is closed only for retail traders while it is always open for the central banks and related organizations. There are many changes a retail broker may face during public holiday.
Changes occur in the closed market during the public holiday
Here are some factors affected due to the public holiday:
1. Unavailability of Brokers
During public holidays like Christmas day, Thanksgiving day, New year's eve etc. most of the brokers are not available and the market is closed for retail traders. Hence, due to this change, the forex market wakes with less volatility and the reason of low volatility is thin trading volume during the public holidays.
2. Thin Trading Volume
In the foreign exchange market, Trading volume means the amount of finance traded during the given period of time. On Christmas, when the market is closed, the forex market suffers from exceptionally low volatility because of low trading volume.
3. Low Volatility
The main cause of low volatility is the thin trading volume. As the market is closed and most brokers are not available during the time, the market suffers from the thin trading volume which results in low volatility.
When there is a public holiday in one country, most markets are closed. For example, if there are public holidays in the US, UK, Europe, China or Australia then, it would make a great impact on the market.
Trading Forex during a public holiday?
Are you trading forex during a public holiday? If yes, either you are a beginner or you have some strategies for trading in holidays. Whether you should trading or not during the holidays? The answer to this question vary from a trader to trader, every trader has a personal opinion on this.
Beginners don't want to miss the chance of earning extra money so, some of them also trade during holidays. Does it worth it? Brand new traders generally trade without leaning market conditions, they think it is a bad idea to miss the opportunity to make extra money, they don't know forex market is affected by different factors and the market sentiment is totally different during public holidays.
Most of the experienced forex traders suggest that trading during such days is not profitable, price movement could occur at any time. Those traders who still take chance to trade on forex they should know that the liquidity during such days is very low because main players (Banks, hedge funding, large commercial companies etc.) of this market are not there in the trade, the analysis is difficult and it is very risky to trade during these days.
Main players in the forex market are banks, large commercial institutes, hedge funding etc. do not have interest during holidays and their contribution is high in the forex trading, hence, during public holidays and bank holidays, we can see big impacts in the market. Many traders ask, whether they will be able to make a profit during these days or not? Yes, you will be able to earn the profit, but it would be so insignificant that it's not worth it.
Why you should not trade forex during public holidays?
The public holiday, in which most markets are closed, the forex market would have less liquidity. It is better to stay away from trading during public holiday. Here are some reasons why you should not trade forex during public holidays:
1. Higher Spreads
Forex brokers are used to raising the spread during public holidays. Spread is known as the price difference between were a forex trader may purchase or sell an underlying asset.
2. Liquidity
The forex market has low liquidity on public holidays due to less interest of banks, hedging funds, market leaders and big commercial companies. They play a crucial role in liquidity because their trading volume is high. Hence, on public holidays you should not trade the forex market due to low liquidity.
3. Volatility
As main players are not in the trading game, it reduces the liquidity and hence it results in low volatility. This is another reason why you should not trade during public holidays; there are not possible chances of making decent money while trading during holidays.
So, mostly forex traders do not trade during holidays due to different market situations and there no possible chances of making a decent profit during public holidays because of higher spreads, low liquidity, and low volatility. Another factor matter while you trade during holidays is your trading style. Some trading system might work fine during low liquidity while most of the trading system breaks.
Conclusion
Public holidays like Christmas day, Thanksgiving Day, New Year's Eve, Independence Day etc. bring a lot of changes to the forex market and the market situation becomes totally different. The reason behind such changes is less interest by banks, hedging funds and large commercial institutes in the forex trading.
Normally, the forex market is unstable during the entire week of Christmas holidays and some brokers are also unavailable for the entire week. But generally, the forex market opens on 27th December, next day of public holiday i.e. Boxing Day. It is not a good idea to trade during the Christmas holidays, it is risky. While, it is also based on the trading system, but mostly, traders do not prefer to trade forex on public holidays.