Getting into forex can be frustrating trying to learn all the terms how to do this and how to do that. Once you understand the overall structure of the forex market then it starts to become easier. When trying to understand what spreads are this is no different. You almost certainly will have to go through a broker to trade forex and that broker has to make money.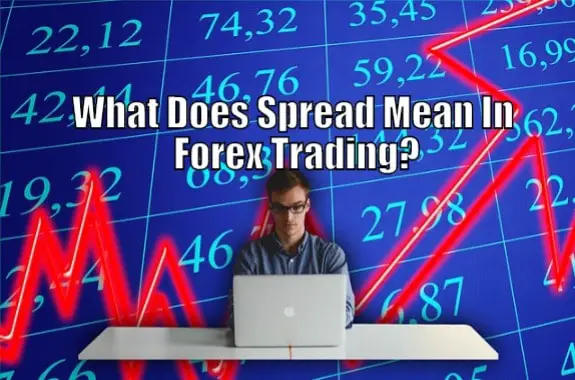 What are spreads in Forex? The broker is essentially the middle man and they of course are going to charge for their services. That charge is what the spread also happens to be the difference between bid and ask price. 
What Is The Bid and Ask Price?
The actual spread is broken down into two things the bid (buying) price and ask (selling) price. This isn't exclusive to just forex most all markets have spreads. Basically to put it as simple as possible when you buy something like a truck when you go to sell that truck or trade it in it is worth less and the dealer needs to get their money from dealing with that trade-in. That might not be the best example but that has made it easier for me to understand.
How Do You Calculate Spread Cost?
Bid – Ask = Spread = Pips X Lots = Spread Cost
So you are taking the difference between the Bid and Ask which gives you the Spread. The actual cost is just the spread times your lots you are trading with.
If you are trading with a micro lot (0.01) = $0.10 USD and your spread is 1. Your spread cost would be 1 (pip) X .01 equals $0.10 USD.
( Spread ) x ( Pip Cost ) x ( Number of Lots Traded ) = Total Cost
These are the average spread across numerous brokers Data was taken from FXCM. This is a general average but it does vary quite a bit from broker to broker. One of the brokers I use for example most all USD based pairs are less than 1 pip.
This is where it is nice demoing a broker but a lot of brokers have different spreads with live accounts vs demo.
Always shop around brokers. Do your research check out our guide HERE but do your own as well. Open up multiple demo accounts and test them out. Even when you go live test out with smaller micro lots to make sure everything looks good. Once you get to a certain dollar amount you won't want to keep our your money with one broker anyway or you will be trading with the banks directly.
| PAIR | SPREAD | PAIR | SPREAD | PAIR | SPREAD |
| --- | --- | --- | --- | --- | --- |
| | | | | | |
| AUD/CAD | 2.7 | AUD/CHF | 3.4 | AUD/JPY | 2.2 |
| AUD/NZD | 3.7 | AUD/USD | 1.8 | CAD/CHF | 3.4 |
| CAD/JPY | 2.5 | CHF/JPY | 2.9 | EUR/AUD | 2.7 |
| EUR/CAD | 2.9 | EUR/CHF | 2.5 | EUR/GBP | 2.3 |
| EUR/JPY | 2.1 | EUR/NOK | 37.4 | EUR/NZD | 4.3 |
| EUR/SEK | 37.0 | EUR/TRY | 64.8 | EUR/USD | 1.3 |
| GBP/AUD | 4.6 | GBP/CAD | 4.4 | GBP/CHF | 3.5 |
| GBP/JPY | 2.7 | GBP/NZD | 6.4 | GBP/USD | 1.8 |
| NZD/CAD | 4.6 | NZD/CHF | 4.5 | NZD/JPY | 2.4 |
| NZD/USD | 1.9 | TRY/JPY | 5.4 | USD/CAD | 2.2 |
| USD/CHF | 1.7 | USD/CNH | 9.0 | USD/JPY | 1.4 |
| USD/MXN | 43.2 | USD/NOK | 34.2 | USD/SEK | 35.0 |
| USD/TRY | 60.7 | USD/ZAR | 102.8 | ZAR/JPY | 4.1 |
Forex Spread Calculator
Here is a basic caclulator you can use to calculate spread and total trade cost. Just a simple one. As you test out with demo you will just be able to tell by looking at your spreads on your MT4, CTrader, or whatever platform you use for your broker.
That is something people misinterpret as well is that a lot of brokers provide you with multiple platforms you can trade on. I use MT4 still currently mainly because I have a VPS setup for trade strategies and a few other reasons.
But at the time of this writing I am now starting to look at Ctrader and of course I use tradingview for all my charting needs.
However I am unable to currently use tradingview as my actual trading platform. Oanda is available as a data feed in tradingview but their spreads are too high, leverage too little, and they don't provide all pairs to trade for US residents. So I normally execute trades straight from my phone.
Why Does The Spread Change On Forex?
There are many different factors that go into spread including what broker you are using but excluding that we will dive into the others for a bit.
Currency Pair is one of those factors. Major currencies have the most liquidity the majority of the time so they, in turn, will have a lower spread pairs like EURUSD or USDJPY. There are more market makers for these major pairs. This simply means more buyers and sellers to dump your trades.
News is another key factor. If there is some big news coming up especially for USD based pairs the spreads will get crazy. Economic news includes U.S. Non-Farm Payrolls. Other political election news, Trump tweets, Brexit votes, etc. This goes to the volitity news makes pair very volitile so spreads widen. A safe way to get around this is to not trade 1 hour before or after major news.
So stick to the majors and not around news starting out and you should be just fine. Another area to not trade around is around New York Session close which right now is 5pm EST.
Low Spread Currency Pairs
Low spread currency pairs are almost always the majors.
Start with these 7 major pairs:
The Euro/Dollar Pair (EUR/USD) …
The Dollar/Japanese Yen (USD/JPY) …
The British Pound Sterling/US Dollar (GBP/USD) …
The US Dollar/Swiss Franc (USD/CHF) …
The Australian Dollar/US Dollar (AUD/USD) …
The US Dollar/Canadian Dollar (USD/CAD) …
The New Zealand Dollar/US Dollar (NZD/USD)
These will usually be the pairs with the lowest spread. Honestly depending on the broker XAUUSD aka GOLD can be a low spread pair to trade as well. Also can be very fun.
EURUSD is probably one of the most popular pairs and for that reason also has one of the lowest spreads. When starting out you may want to start by trading only one pair this may be the one. When a pair is moving you can get quite a few trades in per day with the right strategy.
That is everything you need to know when starting out about spreads. Don't think too much about them unless you are going to be trading something like exotics or crypto currencies. Stick to the majors that average 1-2 pips in spread. There are news trading strategies out there that are a lot of fun. Take Non Farm Payroll (NFP) there are people out there that just trade that once a month and make a ton of money. I mess around with it a bit but I never risk more then 1-2% and my risk to reward is amazing with NFP so it is a lot of fun. If I lose so what. Even if I win 1 out of 5-7 trades I still make money.