Forex market includes many brokers or forex service providers who provide unscrupulous services. Many brokers guarantee you to pay a certain rate of interest, most of them are scammers. It is very important for you to be aware of the market conditions and should be clear of basic concepts of this market. Before understanding your broker or signal service provider, you must have detailed knowledge about this market, then only you can analyze and understand whether you forex signal service provider is sending you legit market signals or not.
Some newbie traders also get stuck in the scam by fake brokers. They assure you that they can predict forex market exactly, but most of them are not legit. So, before choosing your broker you need to analyze his past work with other traders and his knowledge about the forex market.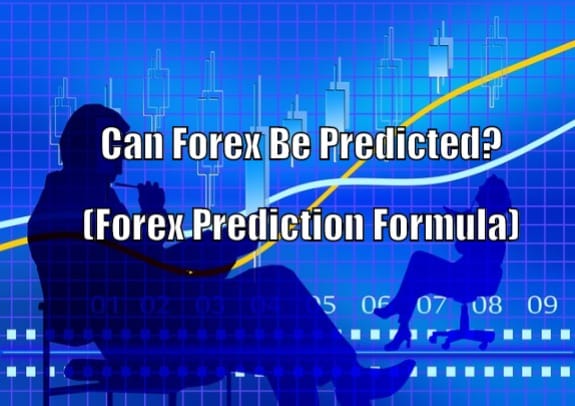 So, here one question arises, can forex be predicted? It is not easy to predict and it cannot be predicted with 100% accuracy. To predict the forex market efficiently, one must have a thorough knowledge of different factors that affect the movement of the currency pair. Some of those factors are:
 Political stability
 Interest rates
 Monetary policy
 Import and exports
 Economic growth of the country
These are the factors a broker or a forex signal service provider should have to predict the next move of this market more accurately. But, there is one fact that it is impossible to predict this market with 100 percent accuracy, having a thorough knowledge of above-mentioned factors, there is the possibility of predicting the market more accurately.
For a brand new trader, it is also required to have knowledge regarding five crucial factors which help in predicting the market with more accuracy. So, if you want to make huge money from the forex market, you should be aware of these factors. Some traders select a broker for doing fundamental and technical analysis; this is an unstable market there is no guarantee having an exact prediction.
A brand new trader can learn the forex market concepts very fast with the help of demo accounts. Demo accounts is an account consisting of fake money, you are not trading with your real money. This is the best option for a newbie trader. A new trader does not have any experience of this market, so to avail some experience and to learn some basic concepts of this market, trading with a demo account is the best option. But, there is also roadblock in trading with demo account i.e., money is not real hence you won't feel the way that you feel while you lose your hard earned money.
Factors you need to understand before predicting the forex market
As we have seen above five factors play a crucial role in the prediction of the currency market. Hence, it is very important for a trader to be aware of these factors:
1. Political Stability
Political stability/instability affects the forex market. A country might have political instability due to conflicts or any other matter. So, a trader must take into consideration this factor before predicting the forex market.
2. Interest rates
The reason why interest rates affect the market is, the forex market is ruled by global interest rates. The higher rate of interests tends to attract more foreign direct investments. So, interest rates do affect the forex market.
3. Monetary policy
Central banks and monetary policy, both go hand-in-hand. Central banks use monetary policy to control the rise in inflation, the money supply, lending to commercial banks etc. Hence, a forex trader must understand this factor to predict the forex accurately.
4. Imports and Exports
Imports and exports play a major role in the forex market prediction. Hence, this factor cannot be neglected. A trader must know the figures for imports and exports of the country to accurately predict forex market.
5. Economic growth of the country
Economic growth of the country is an important factor which affects the forex market rates. A forex trader must have sufficient knowledge of this factor in doing market prediction.
So, the above mentioned are important five factors that affect the forex market and a trader must have sufficient knowledge of all these factors. If you are a new trader and do not have knowledge regarding all these factors, you need to learn these factors and select the right broker who can give you proper advice.
Forex market is not a stable market, you need to prepare yourself for any changes in the market. It is not like, you are going to get a fixed amount every year or every month, sometimes you might earn a huge profit and sometimes you may face a big loss. So, you need to invest your hard earned money after you learn and understand above-given factors. Blindly trusting your broker or forex signal service provider is one of the biggest mistakes that most of the new traders do. You need to invest your money only after analyzing the advice or signals you've got from your broker, signal service provider or from any website.
How you can analyze the forex market? There are different ways through which you can analyze the foreign exchange market.
Types of Forex Analysis
Forex analysis is a crucial task. There are different types of forex analysis mentioned below:
1. Fundamental Analysis
Fundamental analysis is the market analysis in which a trader needs to pay attention to some fundamental factors. Fundamental factors such as Inflation, manufacturing or production, GDP (Gross Domestic Product), economic growth activity etc. Gross domestic product is the primary identifier of the economic strength of the country.
These fundamental factors in the forex analysis play a major role which involves studying the economic strength of a country. Thus, fundamental factors must be analyzed properly by a forex trader.
2. Technical Analysis
Technical analysis helps in estimating the future price movement in the forex market. The estimation of future price movement is done after examining the data of past market and on the basis of it, the market forecast is done.
A forex trader identifies the repeating pattern in the market and predicts the market accordingly. A trader can rely on price charts, volume charts and other mathematical representation of market data to discover an ideal entry and exit point.
So, the above mentioned are the two main types of forex analysis. With the help of these two types of forex analysis, a forex trader can predict the market more accurately. The fundamental analysis consists of fundamental factors and technical analysis predicts the market through the help of past market data.
Fundamental analysis is important to consider because, the forex market is affected by these fundamental factors like the gross domestic product of a country, economic growth of a country, rate of manufacturing or production in a country etc,. Currency market revolves around these factors.
If you want to see technical analysis on steroid check out our page on New Paradigm Trading
Conclusion
Hence, the forex market cannot be predicted with 100 percent accuracy, but there are many analysis methods which help in predicting it, mainly, fundamental analysis and technical analysis. To predict the market more accurately, it is very to have knowledge of factors affect the forex market.
And, there is no scientific formula for predicting the forex market. It depends upon the skills, knowledge, and experience of a trader.
Get with a strategy and stick with it to get your VOT (volumes of trades in = demo) until you have success.